DISH Warriors(Warriors Youth) reach the semi final of the T10 ICCS SEWA Charity Tournament.
Dwayne Hoffman, Shrimant Jharuhar, Kausam Kumar and the students of Annandale High(Qasim Jamal, Mujtaba Zaidi, VJ Khokar, Adil Hussain, Hamim Rafi, Wahab Gull, Muhhamad Adeel and Hendell de La Cruz)took the field as Dish Warriors.
Match Report:
Dish Warriors Surprise at the SEWA Cricket Tourney
Under a cloudy sky that gave way to hot and humid conditions, the youth cricket element of the Washington Warriors competed in a 12 team round robin for the SEWA charity. Captained by American-born Dwayne Hoffman, the multi-ethnic team had players of Pakistani, Indian, and Hispanic descent. Also in attendance were two teachers of the students inlcuding Bethany Slingerland who is the coordinated the Warriors Youth from Annandale High, Saurabh, the captain of the senior team, Shrimant, Kausam, and Suresh and Srinivas Neelapala, the president and vice-president of the Washington Warriors.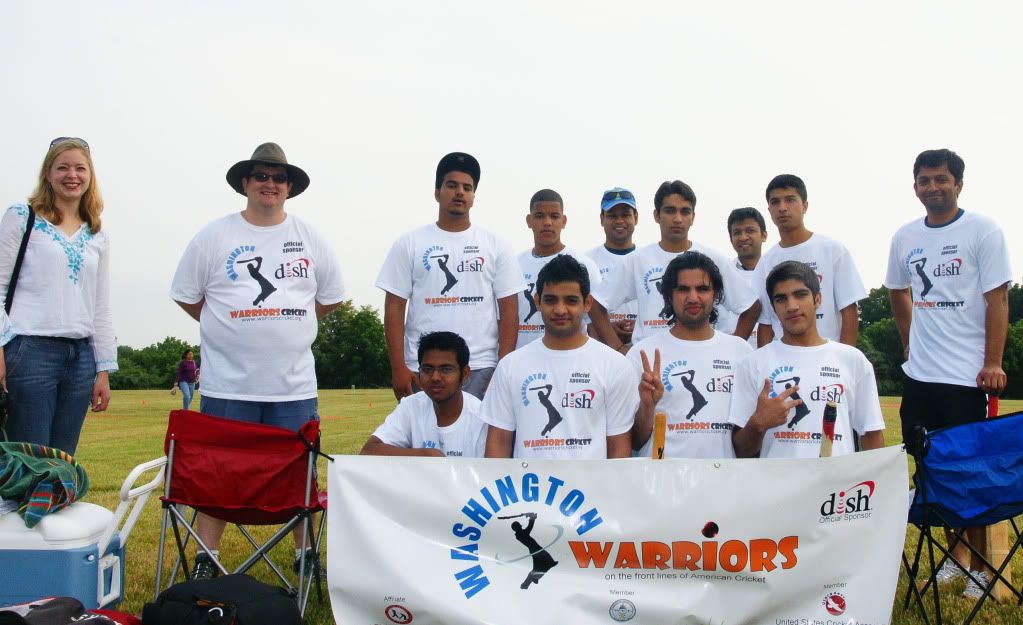 Game 1
We started proceedings against the Challengers. After winning the toss, the Captain immediately asked for a bat. We sent in two aggressive batsman who started scoring at more than a run a ball. After the loss of the first wicket, the Captain walked in and rotated the strike playing an anchoring role as we took many runs from byes and wides. The team's run rate accelerated after the Captain retired, with boundaries and maximums flying over square leg and mid-wicket. At the end of our allocation we had scored 87 runs, on a wicket that the umps thought that 50 was a par score.
In reply we bowled magnificently, and had a chance for a hat trick to boot. The fielding was crisp, and there were stumping chances taken with zeal and passion. We did not concede a run until the 9th ball, and didn't give up a wide until nearly the 3rd over was over. We won comfortably, with a run rate nearly 2.5 runs an over over par.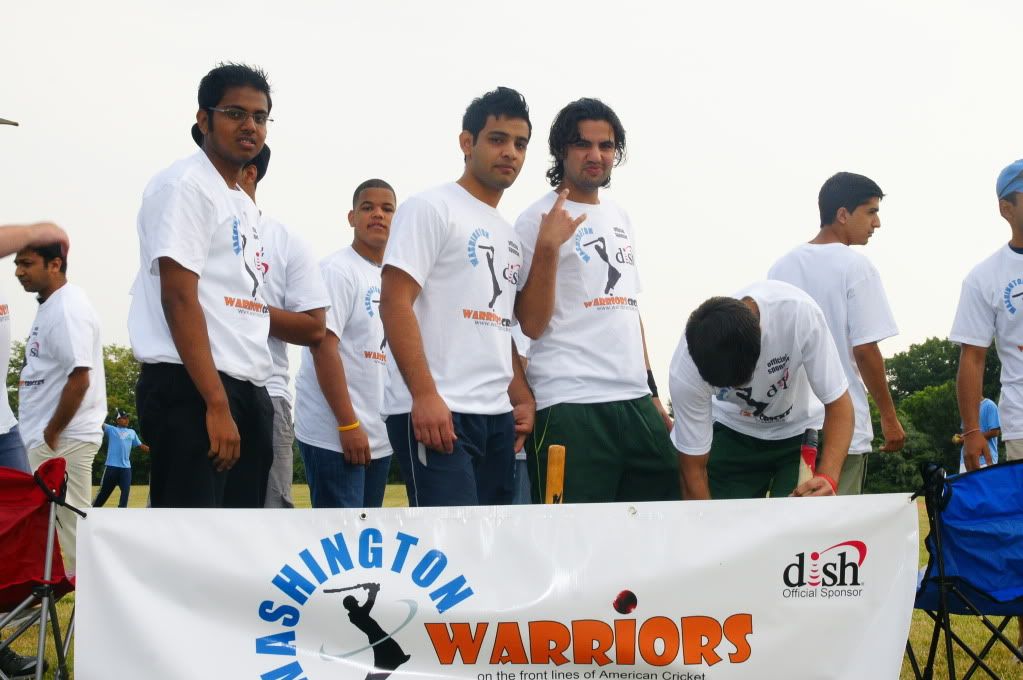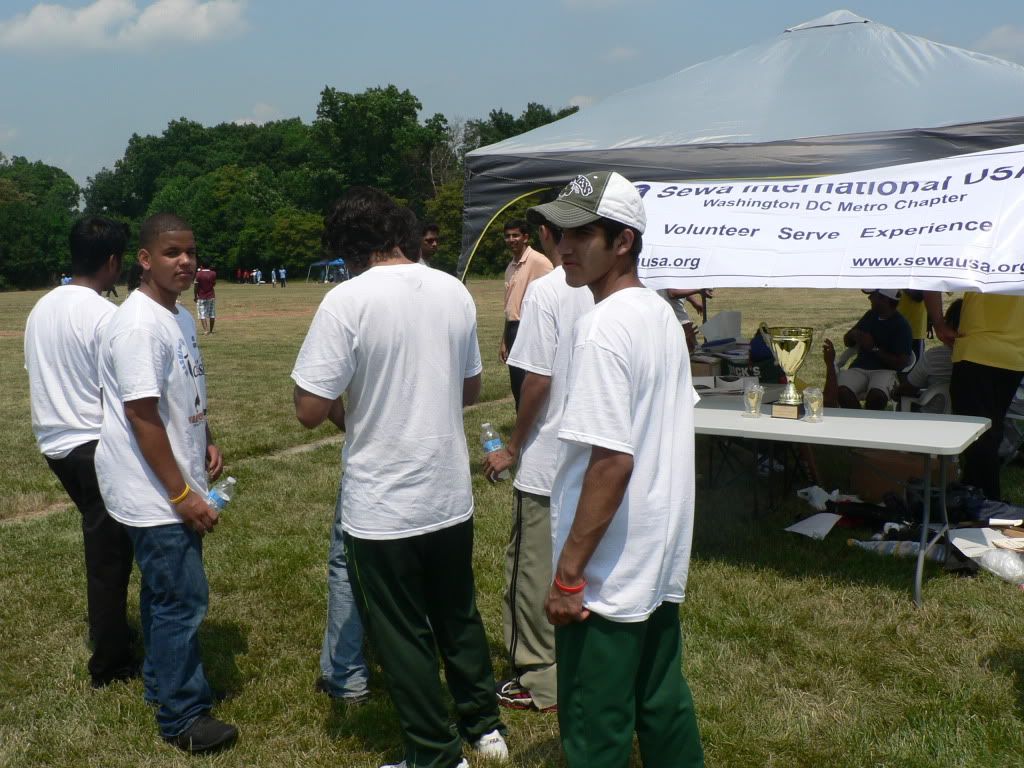 Game 2
We faced the Germantown XI in game on a wicket that didn't have as much variable bounce in it, but had a short-side legside boundary. We lost the toss, and we fielded. Once again, the bowling was excellent, gaining key wickets at pivotal times, including yet another hat-trick opportunity. We held them to a mere 57 runs, and felt confident that we could win.
In replay, we sent in our most aggressive batsman, who was swinging and connecting on many deliveries. After two overs, we had scored 26 runs, and after three, 33. Then, we started losing wickets at awkward times. Shrimant came in to steady the innings, but got out to a well-placed fielder. The Captain came in with four wickets down and 14 runs needed with a nervous team on the sidelines. Thankfully, some disciplined batting, a well timed six, and wides got the team to a tying position, when the Captain dragged one off the bottom edge onto middle stump. The next batsman two balls later took a quick single, leaving his bat in due haste to get to the non-striker side, and the runner coming towards the danger end scampered home - the team ran in from the sidelines and we had a long wait.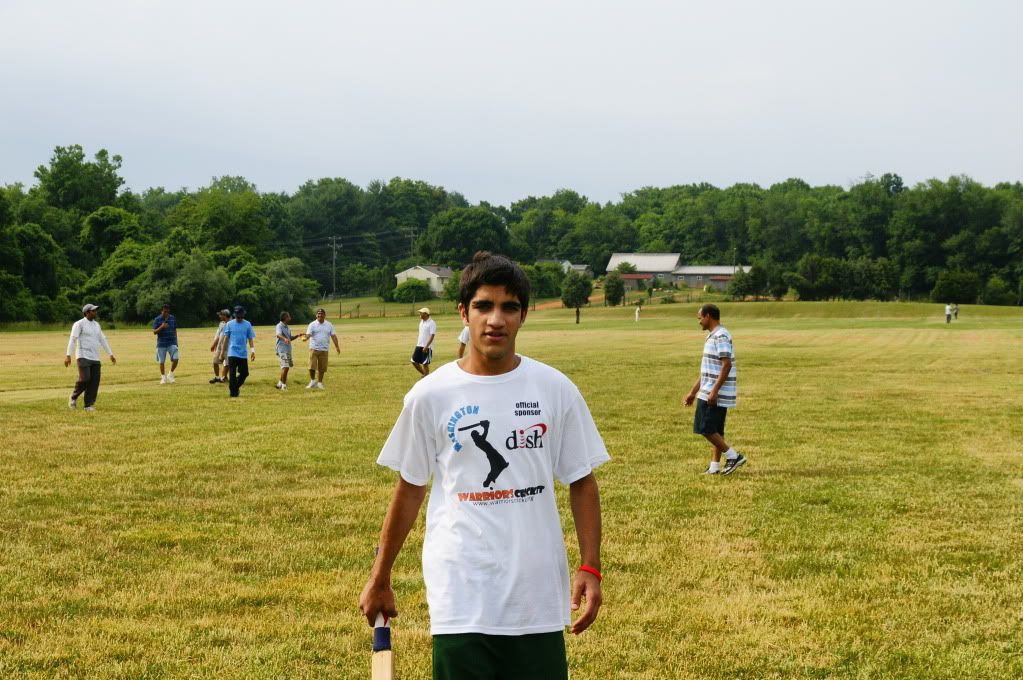 The tourney was based on net run rate, so we had to wait almost 2.5 hours to find out if we had done enough. Luckily there were exactly four teams that had won twice. We were third (!) and had scored a ton of runs.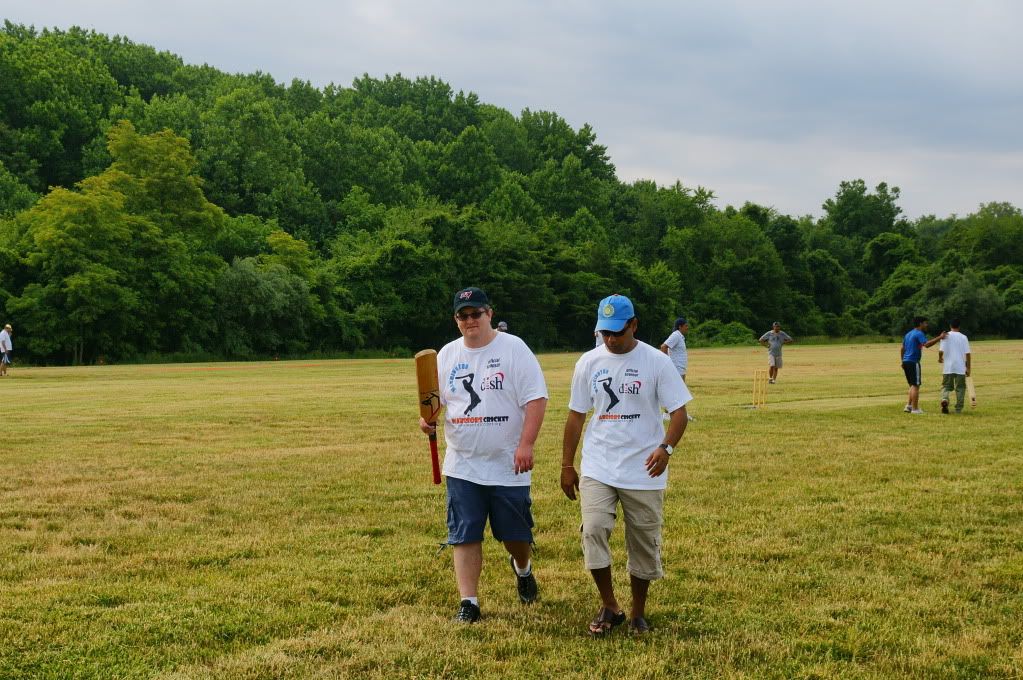 Semifinals
We won the toss, and the team asked to bowl first, feeling confident we could chase down a total. The Captain agreed, and in the field we went. Unfortunately for us, our opponents started hitting most of their strokes over the top of square leg and mid-wicket for sixes - at one time it felt like it was raining sixes! Each time we got a wicket or two (yet again, we had a hat trick opportunity!) they hit a maximum. At the end of their inning, we had to chase a total of 133 - and that was with not that many wides either.
In replay we started slowly, and could never get going. The bowling was disciplined and crafty. We had one spell where we hit four 6's in a row, but it was too little, too late.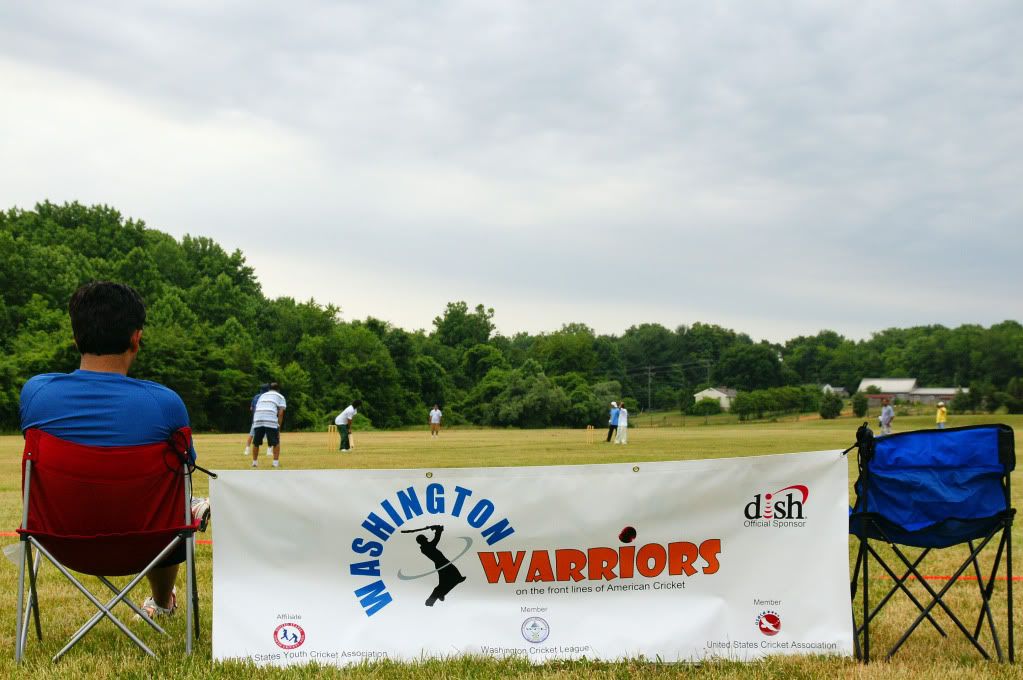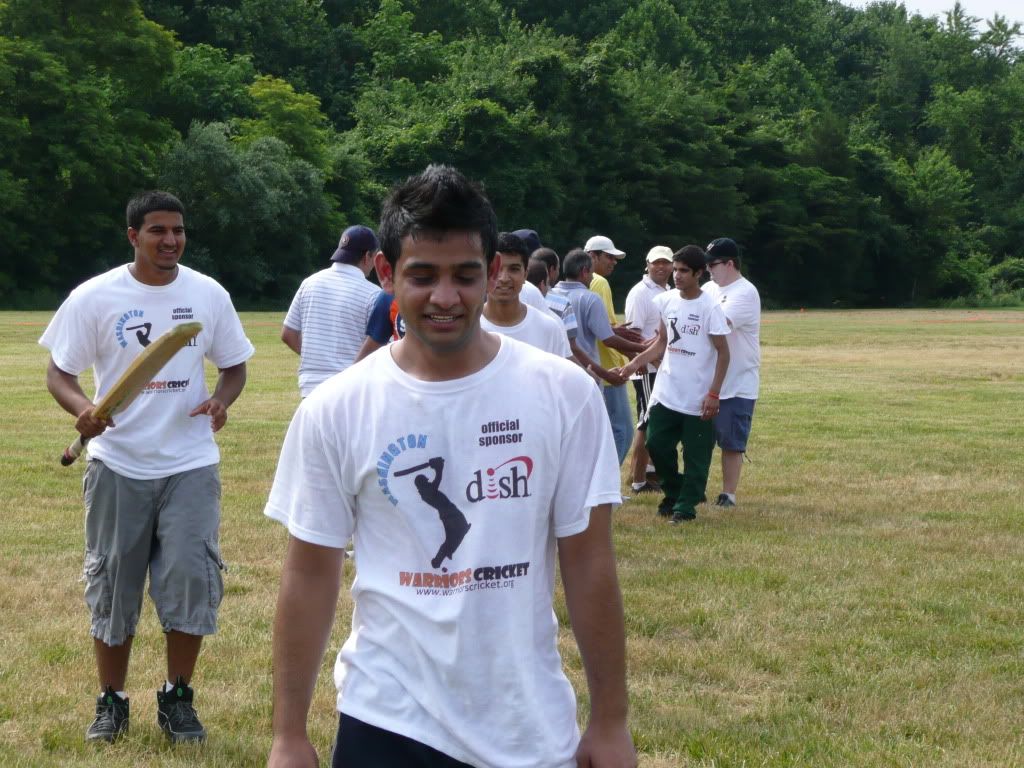 From the Captain,
Dwayne Hoffman
:
"The team today performed well above the collective expectation. Some of these students had never played a game of outdoor cricket before, yet they performed better than many adults who had played for over 30 years! The best part of the day was the espirit de corps and courtesy that was shown to all players; they reminded many individuals that cricket is a game of decorum and respect through their superior conduct.
I have been privileged to captain teams in sporting events before, but this team was one of the best all-around teams I have ever been associated with. It would be wrong to single out one or two individuals, for each and every member made a positive and distinct contribution to our success.
Today was another step in the furthering of cricket in the Northern Virginia area, and in the United States. It is my hope that this great sport took hold in some people today in the country that I have defended proudly, and love completely. Well done to the teachers and students for a comprehensive effort, and to our sponsors, Dish Network, for providing valuable support in this venture."
Report provided by Dwayne Hoffman.